A Gathering Place Throughout History
The Varynit Mills Garment Factory was originally constructed in the mid-1920's and employed several seamstresses who made clothing, especially undergarments.
It was a bustling factory during World War II as the seamstresses prepared clothing for the United States military.
Later it became home to Kay-Jee Sporting Goods and gained notoriety for producing the uniforms used in the movie, Hoosiers. For several years, it served as a storage facility for a local moving company.
In 2016, brothers Todd and Billy Bemis of Bemis Group purchased the building and partnered with the City of Franklin on a remarkable historic preservation and renovation project to turn the building into a premiere event center.
The Bemis brothers also forged a partnership with successful restauranteur Kwang Casey, owner of a Greenwood restaurant and brewery, Oaken Barrel. Casey agreed to operate the facility, including the catering of events.
The project has gathered attention not only in Johnson County, Indiana, but throughout the state and Midwest.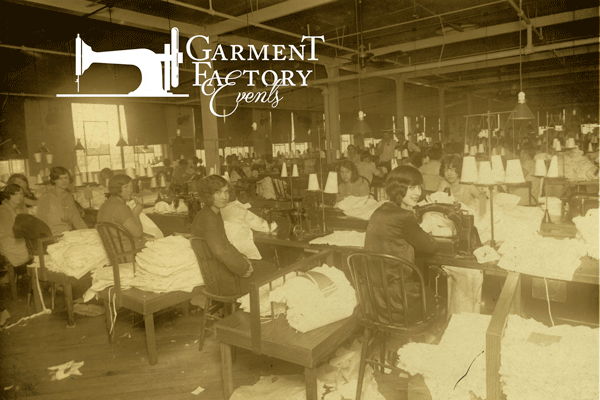 What's Old is New Again
Garment Factory Events is one of Central Indiana's finest event facilities. Our historically restored, 1920's venue is the ideal host for your intimate gathering or grand party. We offer full service catering , bar services and a personal event specialist to make your celebration a success. Contact us at 317.868.8227 to schedule a tour.
The Franklin Room
Get a birds eye view of downtown and Province park from this second-floor, ADA-accessible ballroom. Featuring the same timber-framed posts and beams, original brick walls and industrial-style windows as the first floor, the 10,000-square-foot Franklin Room accommodates up to 450 guests.
The Province Room
Overlooking Province Park, this 7,000-square-foot, ADA accessible ballroom showcases the original timber frame post and beam construction along with vintage brick walls and replica windows. These original factory features are blended with modern finishes making the Province Room is perfect for anything from a 20 person retreat to a 200 guest formal reception. Multiple layouts are available, and the rental fee includes tables, chairs and standard linens.
The Bridal Room
No need to travel around to different hotels and appointments on your wedding day. Instead, use our onsite suite. With a private entrance off the main venue this suite offers three rooms for you and your wedding party. Drop your stuff of in the common area with includes a dining room and kitchenette. Hair and makeup teams can be brought into the women's lounge, with counter space for four and a full bathroom there is plenty of room for everyone to get ready. Also available is the men's lounge, with a second full bathroom and a large screen tv. This space is available to our clients for the duration of their event, no need to worry about packing up before things get started. Not getting married? This suite is also perfect for special guests, speakers, and musicians to use when brought in for private and corporate events.

317.868.8227
How May We Help You?