Serving Your Event in Good Taste
Our in house catering staff has more than 30 years of experience in both fine dining and large scale banquet execution. They will work with you and your guests to offer the ideal cuisine selection and create an outstanding culinary experience for your event.
Garment Factory Events proudly presents Executive Chef Warren Miklos. Warren has extensive training in the culinary arts working in restaurants and catering throughout the East Coast & Central Indiana.
Options include:
Plate Table Service
Buffet Style

Specialty Stations

Cocktail Parties and Open Houses

Custom Menus and Service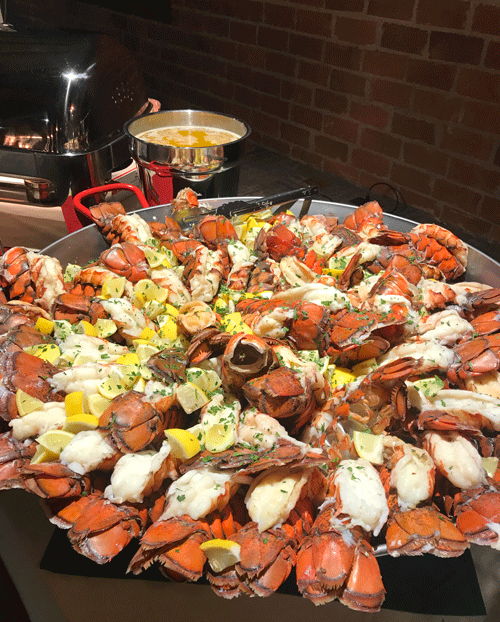 Plate Options
Choose from multiple pre-planned menus or have us create something custom just for you. Contact us to discuss options.
Buffet Dinner Options
Served for Lunch or Dinner, all options served with salad, fresh bread and butter and include a beverage service of house blend and decaffeinated coffee, hot or iced tea and water. Tiered Packages are available or help us create a customized menu for your event. Contact venue to discuss options.The Standard Buffet offers a choice of 1 entree and 2 sides. The Classic Buffet includes a choice of 2 entrees and 2 sides. The Premium Buffet provides a choice of 2 entrees and 4 sides.
Beverage and Bar Options
Every client is offered the flexibility to choose how to serve their guests with our beverage and bar options. Choices include but are not limited to cash, consumption, pre-purchase and full open. With an extensive list of wine and beer options, we are also able to provide craft beers from local breweries and Indiana wineries. Contact us to discuss options.
What's Old is New Again
Garment Factory Events is one of Central Indiana's finest event facilities. Our historically restored, 1920's venue is the ideal host for your intimate gathering or grand party. We offer full service catering , bar services and a personal event specialist to make your celebration a success. Contact us at 317.868.8227 to schedule a tour.

317.868.8227
How May We Help You?